Checker
No doubt about it: The Harley-Davidson Softail models of 2017 where a major success for the company! And to Customizers, they still are! With this customized "Slim", Rick's Motorcycles impressively shows how you can modify the stock slim into a handsome and stylish bobber – in just a few simple steps. Take off the rear fender for one that is swinging with the swingarm, add a stylish handcrafted solo seat and one state-of-the-art Bobber is ready for the ride. Is it? If – as in this particular case – the idea is to create particularly fine piece of Rick's "rolling custom art", one has to dig much deeper into the bag of tricks at the Baden-Baden workshop. Which was never a problem for the Rick's team…
2. September 2021
As already mentioned, the "swingarm-mounted" rear fender and the solo seat are THE defining stylistic features of a Bobber. Rick's Motorcycles manufactures superb Bobber-style fenders for almost all Harley-Davidson model lines, including the Milwaukee-Eight and Twin Cam Softails, but also for the still popular EVO Sportster models. All of them are characterised by sophisticated easy installation procedure and rock-solid manufacturing quality. Stylish curved stainless steel struts are attached to existing stock mounting points, using Rick's-designed special adapters. Result: No welding work is required to the swingarm and there is no need for costly and time-consuming re-coating or repainting of the stock swingarm.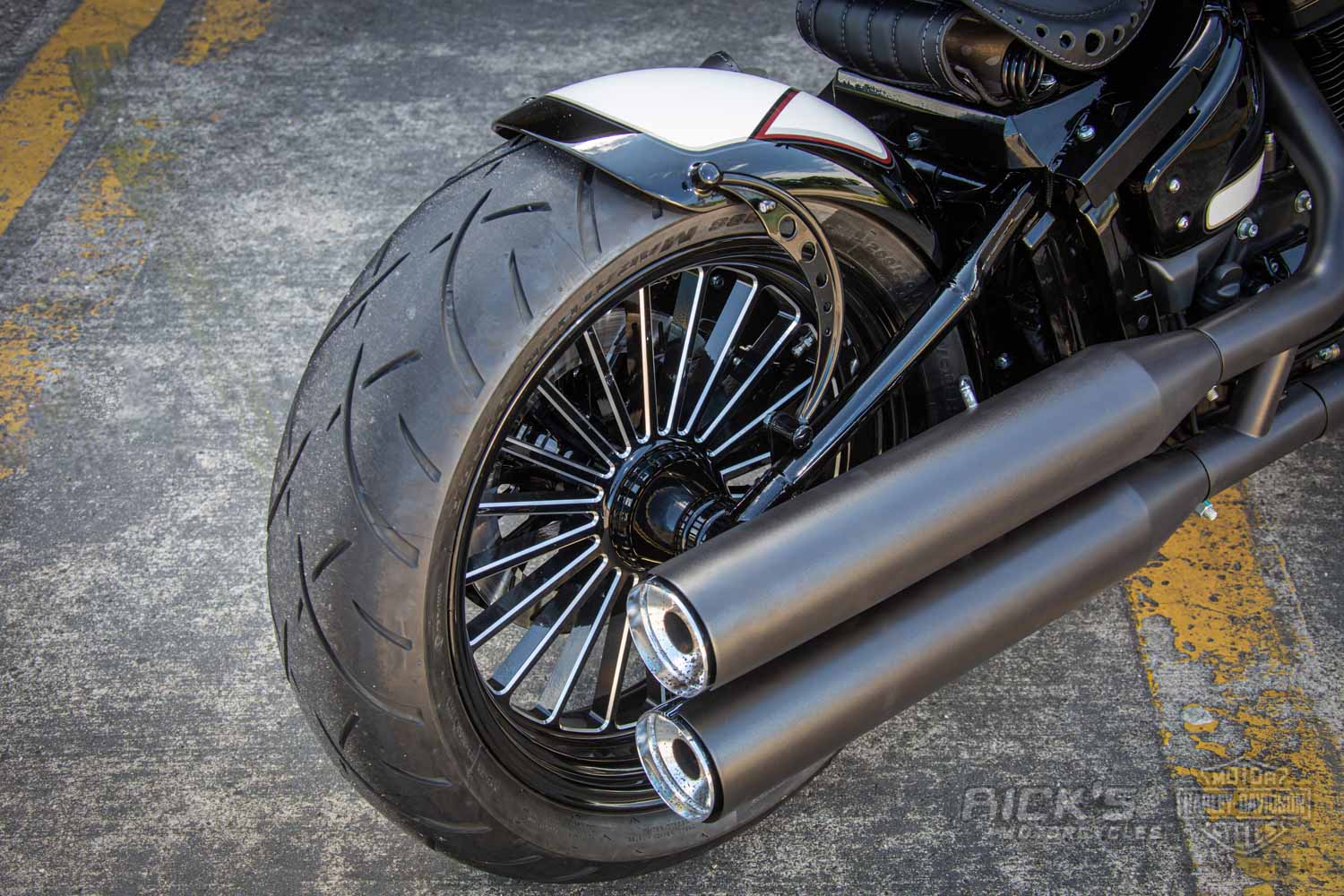 When removing the standard tailend including seat, kooks looks into a large opening between the exposed frame tubes. Which is not too pleasing. Rick's offers a matching frame cover to fill the gap, the necessary seat mount already part of the deal! All standard seats from the accessories specialists, aftermarket manufacturers or seat specialists that handcraft unique custom seats should be able to fit a great Bobber seat. However, in this case a particularly "deluxe" single seat was to be fitted. "Spirit Leather" traditionally manufactures solo seats made of leather especially for Rick's high end custom projects: A pocket under the seat not only offers additional storage space, but also reduces the distance to the fender. The side-mounted swingarm bag was also handcrafted by Spirit Leather in a design specially developed for Rick's.
Up to here, we have already created one respectable Bobber with a cool look, but– as mentioned – this project asked for something special. Rick's Motorcycles has always been recognized as a manufacturer of high-quality wheels, most of which are "timeless" iconic designs. There was no question that Rick's wheels had to be part of this high-class Bobber as well. Rick's renowned "One-Piece Forged Wheels" featuring 20 CNC machined spokes, established under the name "Supersteve" in the Rick's design wheel range, were the wheels choice for this ride. For the front wheel, 3.5 x 21 inches and for the rear wheel 5.5 x 18 inches were CNC-machined from solid blocks of aluminum. Add black powder coating and a subsequent additional visit at the CNC-machine for contrast cut, they now look particularly elegant and super-clean. To have the rear wheel stand out even more than just by its design, matching Rick's Drive Side System and disc – moving the brake from the right to the left side of the swingarm – are added. Further on, front brake disc and drive pulley are machined by Rick's to match the wheel design.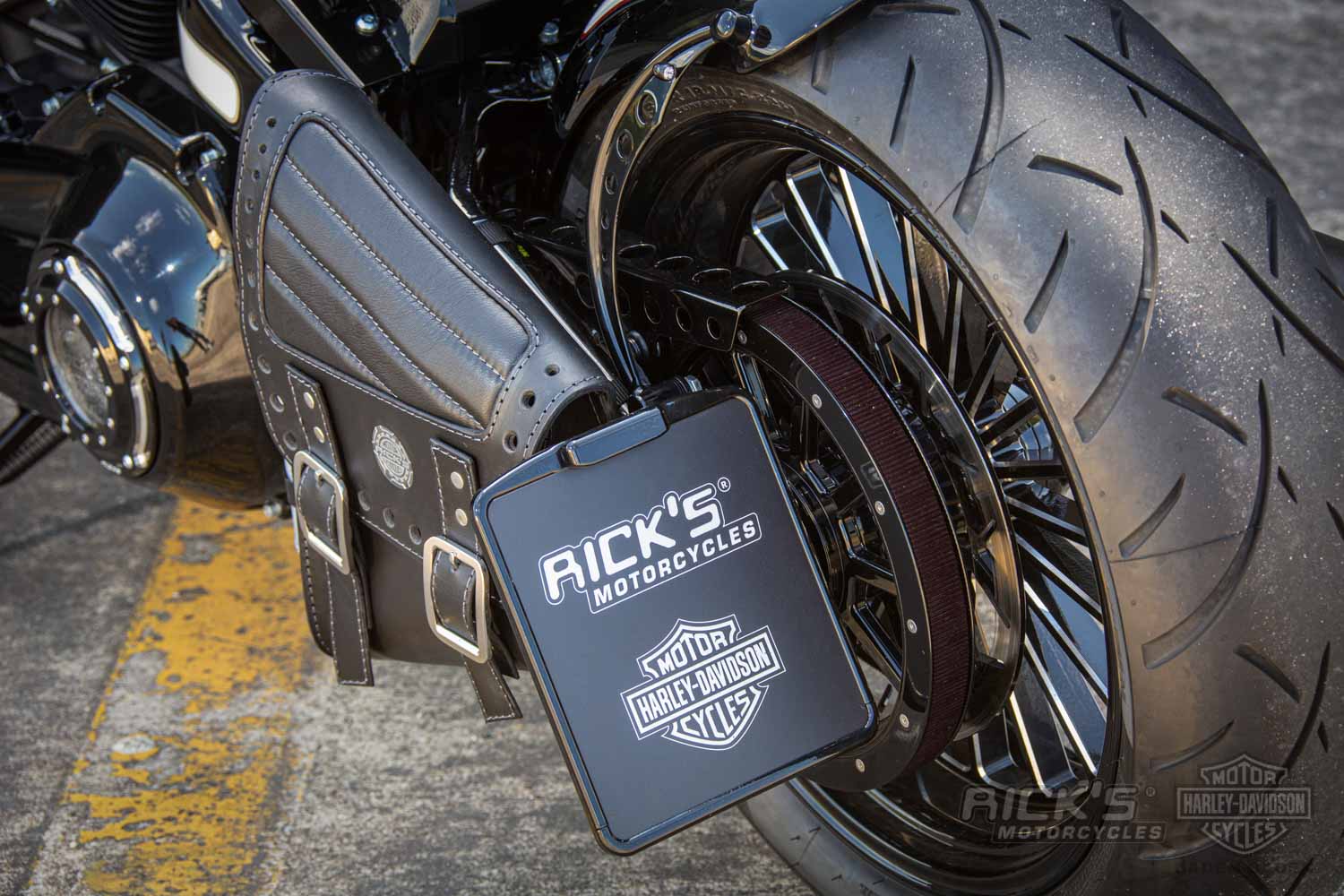 As if that wasn't enough, the choice of accessories was also performed to add to the unique and compact look: Rick's own rubber grips, Rick's steel front fender, Rick's sidemount license plate bracket with CNC-machined base plate and Rick's clutch cover with clear Makrolon disc are listed in the specifications. Those who are missing tail lights and turn signals should take a closer look – and the use a magnifying glass is recommended! Kellermann's stylish and super-small "Atto" indicators are installed front and rear! At the front, the tiny lights are fixed to the stock mirror screw mounting point, utilizing Rick's sophisticated and top-selling CNC-machined adapters. At the rear end, the 3-in-1 counterparts, filling in for all three functions of indicator, tail-and brakelight, are fixed in the corresponding holes in the upper end of the stylish fender struts. A super-clean solution!
At the start of this story we announced a particularly fine crafted Bobber and those who have read this far will likely confirm that this statement was not an exaggeration? But if you think you are looking at a "real man's" bike, you should know that this bobber is ridden by a charming lady. Look out for it "on the road"…

Text & photos: Peter Schulz
Contact us directly for all your questions