Copper Bobber
The Harley-Davidson Street Bob models are a rewarding base for different conversions. Even coming out of the Factory, they are trimmed to look like a Bobber, and customizers often decide to refine the 50s look further. A solo seat and a swingarm mounted fender are the most likely and important steps to interpret this style.
Even if the conversion, which thanks to Rick's Bobber kits, is relatively easy, there are a few things one should know. Once the stock fender, including struts and seat, has been removed, one realizes quickly that it is not achieved by just simply changing the wheel cover.
Rick's Motorcycles has developed a swingarm mounted fender which can be attached to the frame or the swingarm without additional welding work. The swingarm doesn't even have to be detached for the work, which simplifies the conversion enormously, making it much cheaper to carry out. In addition to the fender, the matching struts and the mounting material are also supplied.

The stock seat also now no longer fits in the original location, but there is now a gap between the frame tubes, so the question arises of where to attach the new seat. Rick's has the answer with a frame cover with which not only the gap in the frame can be closed, but this does also have holders with which many aftermarket seats can be used.
The seat on this Bobber is a beautiful, handcrafted saddle by Spirit Leather, who, together with Rick's, developed this stylish and comfortable solo seat. It also comes with a small bag, large enough for a wallet, the keys or a pack of cigarettes. For all who need more space, Rick's has even attached a matching swingarm bag, also made by Spirit Leather to Rick's specification.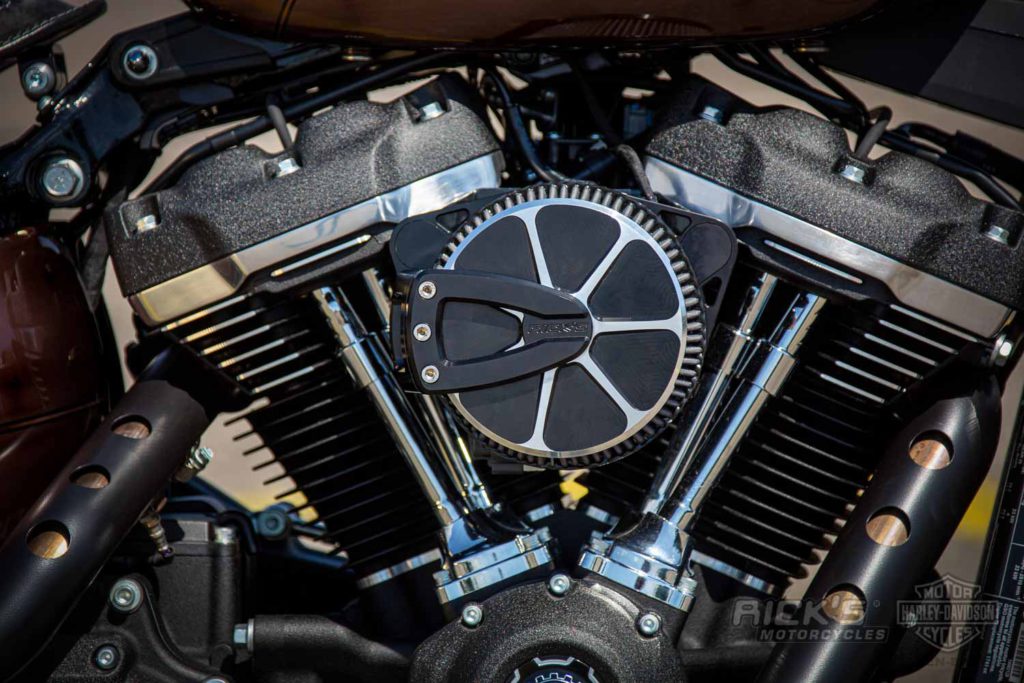 This Bobber was equipped with selected accessories, most of which are from Rick's large parts program, among them the foot controls, which fit in the stock location. The black footpegs have rubber O-rings to prevent slipping. A safe grip is also offered by rubberized grips from Rick's. Brake and clutch levers are also worth a closer look, with which the lever length, but also the distance to the grip, can be adjusted.  For a good view of the clutch, Rick's derby cover with a clear Makrolon window was used.

It only remains to clarify another small detail, namely the indicators, and Rick's has once again chosen Kellermann products. The "Atto" from the specialist company in Aachen is probably the smallest LED indicator with EC test mark on the market. At the rear the 3 into 1 version was used, which combines the indicator, rear and brake light in an extremely small housing. For attaching them, the holes in the struts were used. At the front, the Attos are located below the instruments, and thanks to Rick's holder, the indicators can be fixed easily with the mirror screw.
Text und photos: Peter Schulz